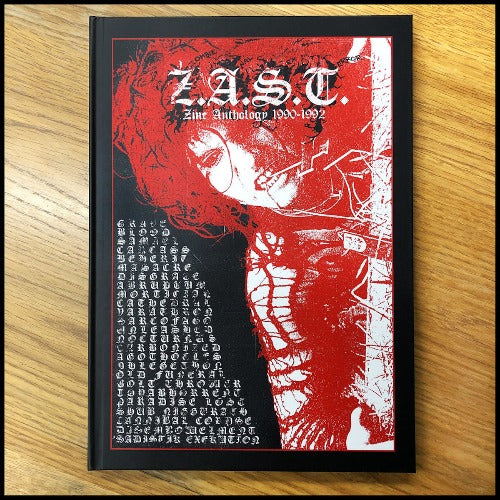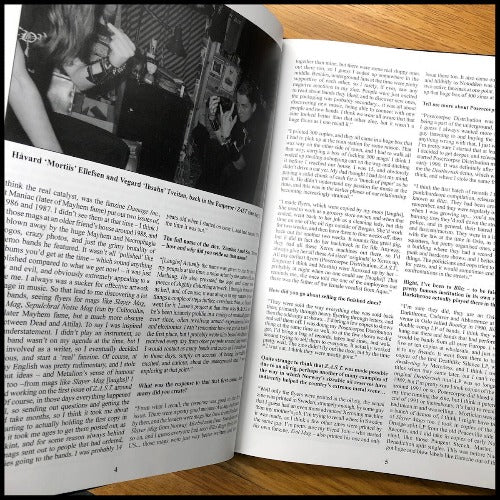 Z.A.S.T. ZINE ANTHOLOGY 1990-1992 (FANZINE BY MORTIIS)
Z.A.S.T. ZINE ANTHOLOGY 1990-1992 hardback
128 large format (A4) pages, hardback book
This is the official reprint of both issues of Z.A.S.T. (Zombie Anal Sex Terror). Though Mortiis – né Håvard Ellefsen – would ultimately become better known as a founding member of seminal black metal band Emperor, a godfathers of dungeon synth music and an industrial rock frontman, he first made his contribution to music culture via this delicately-titled self-publication.
Collecting both issues in all their chaotic hand-drawn, cut-and-paste and irreverent glory, these pages provide a snapshot of that brief period when black metal was just beginning to emerge from Scandinavia and death metal still dominated the listening habits of most
 

underground metal devotees.

Includes suitably off-the-wall and irreverent interviews with:

GRAVE, BLOOD, SAMAEL, CARCASS, BEHERIT, MASACRE, ABRUPTUM, MORTICIAN, CATHEDRAL, VARATHRON, SARCÓFAGO, UNLEASHED, CARBONIZED, AGOTHOCLES, PHLEGATHON, OLD FUNERAL, NOCTURNUS, THYABHORRENT, BOLT THROWER, SHUB NIGGURATH, CANNIBAL CORPSE, DISEMBOWELMENT, NECROMANTIA, SADISTIK EXEKUTION, PARADISE LOST, NECROPHILIAC, REVENANT, SATANIC DEATH, BAPHOMET, PYATHROSIS, TRANSGRESSOR, DISGRACE, DISHARMONIC ORCHESTRA, TOXODEAD, PUNGENT STENCH, CEMETARY, NECROFIST and more

Also included are a multitude of reviews and articles, unpublished images and a new interview with Mortiis himself, which gives context to these early works.