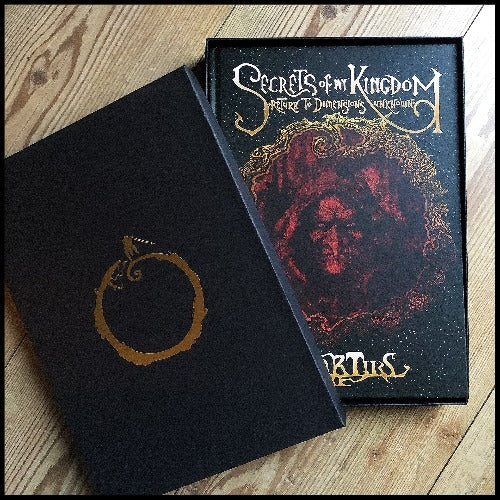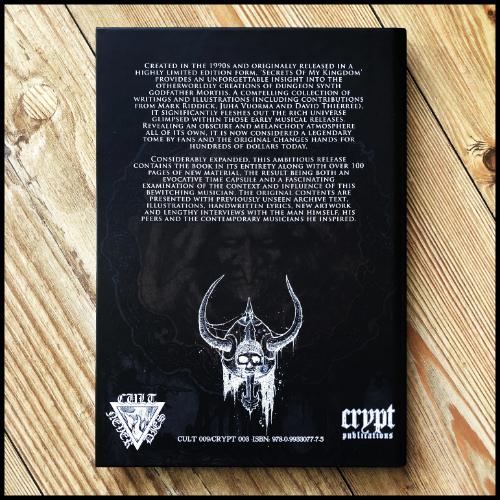 Secrets of My Kingdom Book Slim Deluxe Box
 THIRD EDITION!
If out of stock here, try the Bandcamp page!
https://mortiis.bandcamp.com/merch/slim-deluxe-box-secrets-of-my-kingdom-3

-----------------------------
The deluxe version of this book weighs more than 2kg, hence the high shipping cost to Non-EU countries.
If you are outside of the EU, and want to buy this deluxe edition, consider combining orders with friends, to save on postage. The shipping rates outside of the European Communion, remains the same between 2.5 kilos. It´s high, but it remains the same.
Created back in the 1990s and originally released in a highly limited edition form, Secrets Of My Kingdom provides an unforgettable insight into the otherworldly creations of dark ambient godfather Mortiis. An utterly unique and compelling collection of writings and illustrations (created by a number of talented artists), it significantly fleshes out the rich universe that is glimpsed within those early musical releases. Considered a legendary tome by fans, the rare original changing hands for literally hundreds of dollars today.
Considerably expanded with 100 pages of new material, this ambitious 240 page large format (30x21cm) hardback bookcontains the original in its entirety as well as previously unseen text and illustrations, an extensive new interview with Mortiis, plus words from peers, the book's illustrators, musicians from the growing dungeon synth movement (including Mark Riddick, David Thiérrée, Albert Mudrian, Juha Vuorma, Proscriptor, Balrog, Forgotten Kingdoms, Chaucerian Myth and more).
Available in standalone edition or in a luxurious special edition deluxe embossed box, a 12 piece 350gsm art print set featuring exclusive artwork and images never before seen in colour, a certificate of authenticity signed by Mortiis himself and a 16 page recreation of the rare 1993 'Født...' booklet, originally limited to 50-100 copies.
Slim Deluxe Box Complete contents:
- Hardback Mortiis book
- Set of 12 high quality 300gsm art prints 30x21cm large featuring exclusive art and artwork from the main book that since 2001 has only been seen in black and white format.

- 16 page recreation of the rare 1993 'Født...' booklet 
- Deluxe black box with hot foil gold Mortiis logo
- Certificate of authenticity signed by Mortiis himself